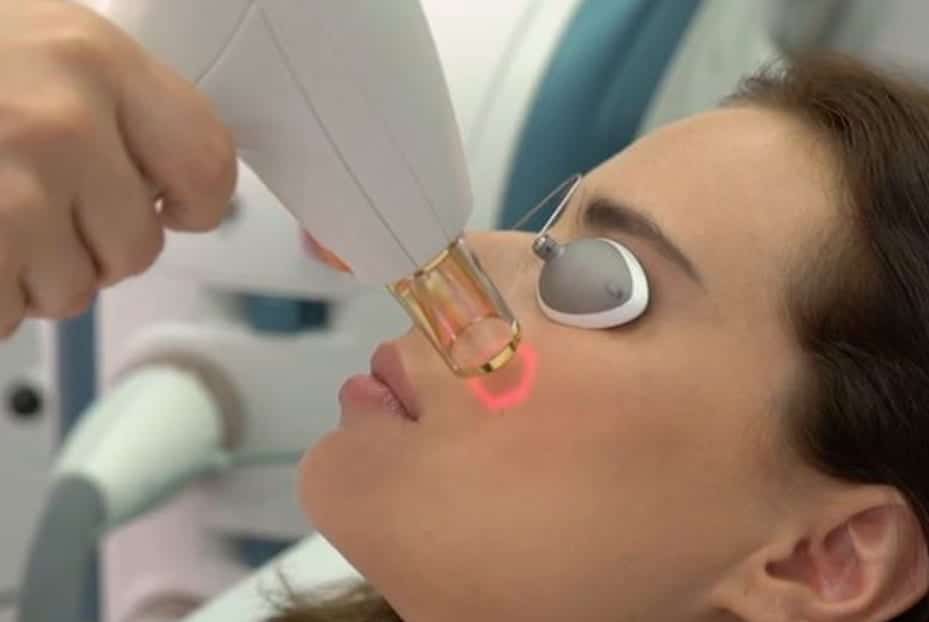 For advanced skin rejuvenation, laser resurfacing is a highly capable and versatile treatment for treating a myriad of conditions that affect both the superficial layers and deeper skin problems. All too often, treatments address skin health across the whole face, and are not capable of targeting specific skin concerns. Laser skin resurfacing provides a powerful boost to skin health, whilst concentrating on areas where it is needed most.
Laser skin resurfacing uses beams of thermal energy. This doesn't remove layers of skin fully, but penetrates into the innermost layers to help improve the look of skin conditions from the inside out. Laser skin resurfacing allows for precise targeting of damaged or blemished skin without affecting the surrounding healthy skin cells. The treatment also encourages the body's natural growth processes, including collagen and elastin – the proteins responsible for repairing the skin. Over time post-treatment, old skin cells are replaced with renewed, glowing and healthy skin.
Interested in Laser Skin Resurfacing treatment?
At Define Clinic, all laser skin resurfacing treatments are prefaced with an in-depth consultation with Dr Benji Dhillon, our Medical Director. During your consultation, Dr Dhillon will gain an understanding of your unique needs and assess whether or not laser skin resurfacing is the right choice for you.
To schedule your initial consultation in Beaconsfield, please get in touch.
Book Today
Frequently asked questions
For some patients, a course of treatments, often 3-4 spaced one month apart is recommended for best results. This will be discussed with Dr Dhillon during your consultation, where a treatment plan will be tailored for your unique needs.
Discomfort is kept to a minimum by applying local anaesthetic to the treatment area prior to the procedure.
Often minimal results are noticed after one treatment and we therefore recommend 3-4 treatments spaced one month apart. This is because we need to boost your collagen production as much as possible to achieve results and also due to the skin needing time to heal naturally and develop new cells. The effects of laser skin resurfacing can be seen for months to years, as collagen production remains stimulated for increased skin repair.
Redness and some minimal swelling will be visible for 12-24 hours but quickly subsides. Time of work is not often necessary. During your consultation, the strength of treatment will be agreed upon, and Dr Dhillon can advise you of the recommended downtime. It is important that there is no direct sun exposure to the treated area for 6-8 weeks after treatment as this may increase the development of dark spots of skin or hyperpigmentation. We strongly advise wearing spf 50 consistently for this duration after treatment and longer if you wish to protect the effects of the treatment.
Laser skin resurfacing can be used to address hyperpigmentation, sun damage, scarring and wrinkles, and can be used on all skin types. During your consultation, Dr Dhillon can assess whether or not laser skin resurfacing is the best treatment option to achieve your desired results.