Designed to appear and function as a natural part of your mouth.
Dental implants are anchored to the jawbone through the use of small titanium posts beneath the gum tissue.
Dental implants are now used widely within restorative and cosmetic dentistry for the replacement of missing teeth, or those that require extraction due to severe damage. Designed to appear and function as a natural part of your mouth, dental implants, with the correct maintenance, can be an almost indistinguishable physical and aesthetic option for tooth replacement when teeth are lost or extracted, and can achieve long-term restoration.
Dental implants are anchored to the jawbone through the use of small titanium posts beneath the gum tissue, simulating natural tooth roots. Once the dental implants have fused to the jawbone, they can be considered a secure base for the placement of a crown or bridge.
Dental Implants
Due to their reliability on the durability of other parts of the jaw, dental implants will not be the most suitable treatment option for everyone. However, candidate suitability for the procedure is assessed by the Dr Mark Hughes at Define Clinic on an individual client basis during a bespoke consultation, wherein the most beneficial treatment is established through physical requirements, and the patient's expectations.
To schedule your implant consultation with Dr Hughes at Define Clinic, please get in touch.
Book Today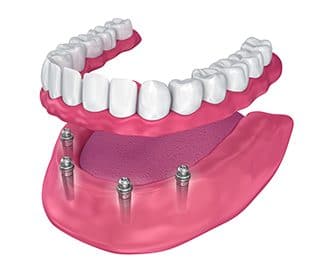 Implant-Supported Dentures
If the density of your jawbone is not strong enough to support a full set of dental implants, or you have adjacent missing or damaged teeth requiring extraction, implant-supported dentures are considered an effective and enhanced alternative to traditional dentures.
This advanced prosthodontic technique enables partial or full dentures to be anchored to fused dental implants with abutments, so the dentures can be snapped in and out of place with ease, with no adhesives required. Implant-supported dentures can enable improved comfort, security from slippage, and the restoration of teeth function for confidence with eating, speaking, and smiling.
When a whole denture arch is to be sustained, Dr Hughes and his implant surgeon colleagues are also able to utilise the innovative All-On-4® system, known as "teeth-in-a-day" or "same-day teeth" due to the ease of the procedure. This technique enables the support of an entire denture arch on just four secure and strategically-placed implants, when full denture arches traditionally require six to ten, meaning it is less invasive, and requires less time.
Implant Bridges
If you having missing or damaged teeth in the same row – and sufficient jawbone density – implant bridges are a popular option, for the restoration of the biting function and enhancement of your smile. Implant bridges 'bridge' the gaps between healthy teeth, through a series of interconnected porcelain crowns that function as subtle and natural-looking teeth replacement.
Once it has been established that an implant bridge is suitable, a teeth impression is taken to ensure the bespoke porcelain crown bridge will have a natural and comfortable fit when it is connected to the dental implants, which are usually fused in the absent spaces left by missing teeth.
Implant bridges tend to be recommended instead of dental implants alone if teeth clenching or grinding is a concern, in order for the pressure from these complaints to be distributed across the bridge, instead of individual dental implants alone.
Frequently asked questions
For the right candidate, dental implants at Define Clinic can vastly improve both confidence and quality of life - eliminating discomfort, the worry of missing teeth visibility, the risk of poor nutrition due to having difficulty eating certain foods, and the likelihood of further dental deterioration.
Your suitability for treatment will be assessed by Dr Mark Hughes and the Define Clinic team during your tailored consultation. If a particular treatment is not suitable, the clinic team will work to establish an alternative for achieving the results you want. If your jawbone lacks the density to support full dental implants, procedures such as implant-supported dentures are often considered an effective alternative.
The cost of your dental treatment will vary depending on the individual procedure and treatment plan that is established for you at your personalised consultation with Dr Hughes or one of our implant surgeons. Sometimes bone grafting or gum grafting procedures are needed in addition to the dental implant placement.
Prior to your treatment, Dr Hughes will ensure to clarify what you should expect after your treatment, and the steps you can take to ensure your recovery is as smooth as possible. He will also be available post-procedure to answer any questions you may have, and to provide reassurance as you recover.