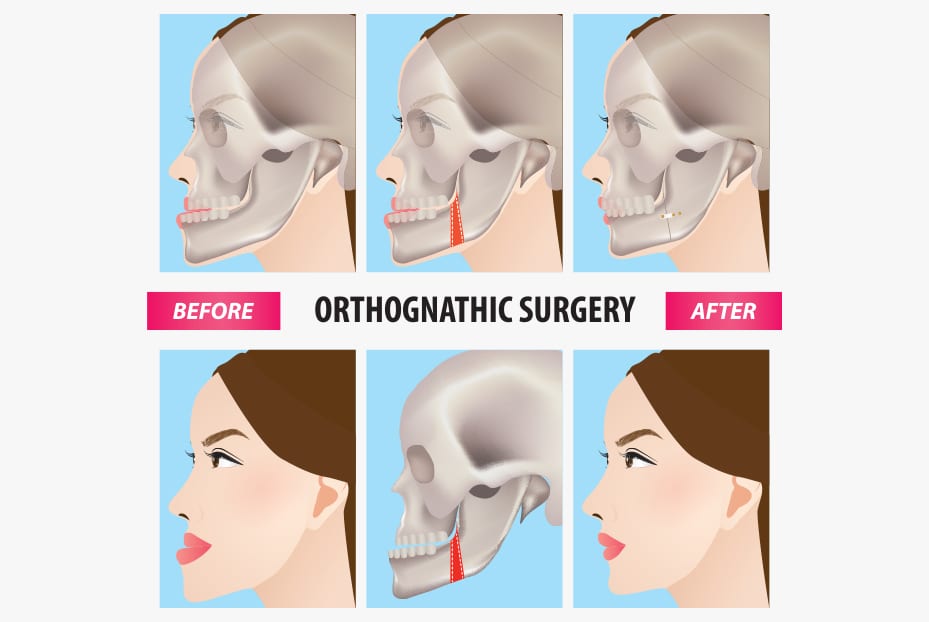 Orthognathic treatment is a surgical procedure that repositions the upper jaw, lower jaw or both.
For those who suffer from a misaligned jaw, quality of life can be severely impaired.
Orthognathic treatment is a surgical procedure that repositions the upper jaw, lower jaw or both. Orthognathic surgery is usually used for individuals who possess a marked difference in the size of the jaw in relation to each other or that are abnormally positioned. Discrepancies between jaw sizes and positions are more common than most would assume, and usually result in poorly positioned teeth or bite. For the most part, this can be treated via orthodontic methods such as braces, but in some cases of severe jaw misalignment where significant facial deformity is visible, orthognathic surgery is necessary .
For those who suffer from a misaligned jaw, quality of life can be severely impaired. As well as visible abnormalities of the dental and facial appearance, the function of the jaw can be compromised, negatively impacted eating habits, jaw muscles and joints, speech, and causing damage to the gums and palate.
At Define Clinic, our cosmetic dentistry or orthodontic team can help patients begin their orthognathic treatment with a referral to an Orthognathic surgical specialist. A plan that combines surgical correction with orthodontics to achieve flawlessly natural results can drastically improve the smiles, confidence and the quality of life of those who suffer with misalignment of the jaw.
To schedule your initial consultation for orthognathic treatment, please do get in touch with Define Clinic.
Book Today
Frequently asked questions
There are several factors that can contribute to jaw discrepancy. Genetics may be involved, or else it may be the result of a growth disturbance during adolescence. Underlying medical issues, such as a syndrome, cleft lip or palate may also contribute towards the appearance of a discrepancy. A jaw fracture in childhood may be the reason, although often, there may be no specific cause at all.
Orthognathics can help improve the jaw's capabilities to bite and chew, as well as the appearance of the face and teeth. This can dramatically increase the quality of life and oral health of those who opt to correct jaw discrepancies in this way.
Treatment for jaw discrepancy can begin once growth is complete, as they often become more prominent during adolescence and may continue to worse until the patient has finished growing, roughly at 16 to 18 years of age. A combined treatment plan will be created bespoke to the individual, combining orthodontics with orthognathics to achieve the desired results. It is necessary to straighten the teeth in each jaw before undergoing orthognathic surgery in order to assure optimal alignment in the end results. After the orthodontic process has completed, the operation is carried out under general anaesthesia. The upper, lower, or both jaws are "broken" and moved to the planned position, fixed in place using bone plates or screws. Incisions are made inside the mouth to avoid scarring on the face. Post-surgical orthodontics may also be required. During your consultation, our team will fully explain the process so that you completely understand what you will be undertaking
As the operation requires a controlled break of the jaw, patients can expect to stay in hospital for 1 to 3 days after the surgery, and a four week recovery before resuming daily obligations, such as work or school.
Complications are rare, but possible during orthognathic treatment, and can include nerve damage in the mouth and jaw, damage to the teeth, or in some cases, the jaw and teeth can relapse to their original positioning.
The full cost of treatment will depend on your own unique treatment plan and how complex the surgery and teeth alignment is, but can cost from £10,000 to £20,000 (which includes the orthodontic braces).