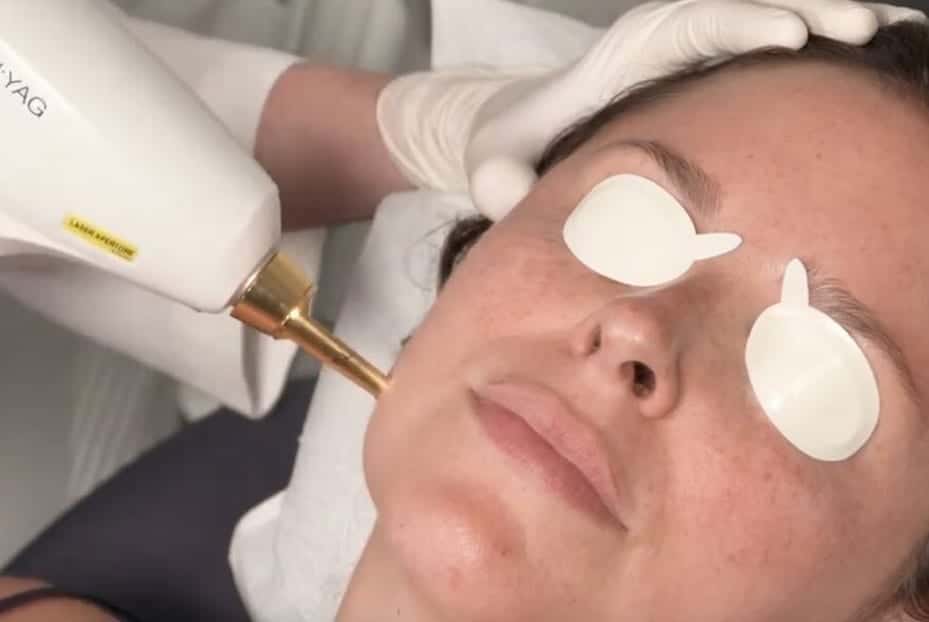 Intense Pulsed Laser (IPL) is a light-based skin treatment for rejuvenating the skin. Also known as a Photo Facial, IPL is adept at treating skin conditions such as fine lines and wrinkles, sun damage, hyperpigmentation, acne, rosacea, and prominent facial veins. IPL treatments improve skin texture by stimulating the production of collagen in the skin. When we are young, our skin possesses collagen in abundance, keeping it smooth, supple and healthy. As we get older, our body begins to decrease levels of collagen production. As collagen is responsible for repairing the skin, as reserves deplete, this results in visible blemishes and signs of ageing becoming visible.
During IPL treatment, high energy light waves are utilised to penetrate into the deeper layers of the skin. These light waves help remove dead skin cells to reveal younger, fresher skin underneath, whilst simultaneously boosting the skin's natural ability to produce collagen to repair and protect itself. This encourages the growth of healthy new skin cells, keeping skin firm and elastic. Multiple treatments may be required depending on the conditions being treated and the intended results.
At Define Clinic, Dr Benji Dhillon heads our expert facial aesthetics team, who are responsible for all IPL treatments. Prior to treatment, patients will undergo a comprehensive consultation with Dr Dhillon to ensure IPL treatment is the correct course for them and address any questions or concerns they may have.
IPL FAQs
Patients will notice a result 2-3 weeks after the first IPL treatment, which can be further enhanced over the multiple sessions. We usually recommend 3-4 treatments, spaced one month apart for optimal results, though this varies from patient to patient.

There is minimal downtime associated with IPL treatments. You may experience a mild redness to the face for approximately 12 hours following treatment. It is vital that patients should take care not to expose skin to direct sunlight for a 4-6 weeks after treatment. Doing so increases melanin production, and due to the stimulated level of cell growth, this can result in hyperpigmentation.

IPL is adept at handling a range of skin concerns, including pigmentation, sun damage, wrinkles, fine lines, veins, rosacea, freckles, moles, birthmarks, and acne. However, IPL is not recommended in those with darker skin or patients with thick keloid scars, and conditions such as eczema and inflammatory acne can hinder the recovery process. During your consultation, Dr Dhillon and his team will perform a full skin examination to ensure IPL is the best treatment for you.

IPL is a relatively comfortable procedure that does not cause any major pain in patients. However, some patients may experience a sharp tapping sensation from the light pulses.

A course of treatment is recommended for best results, usually scheduled three weeks apart. Sessions usually last around 20 minutes. Prior to treatments, a cold gel is applied to the area of treatment. Then, the IPL handpiece is moved through the gel over the desired treatment area. Patients will be made to wear protective eyewear during the treatment, as intense broad bandwidth light is pulsed onto specific areas. The skin absorbs the light energy, and the healing process is begun.
Take The Next Step
At Define Clinic, we can help you reach your goals of perfect, blemish-free skin. So, contact us today and take the first step.
Get in touch